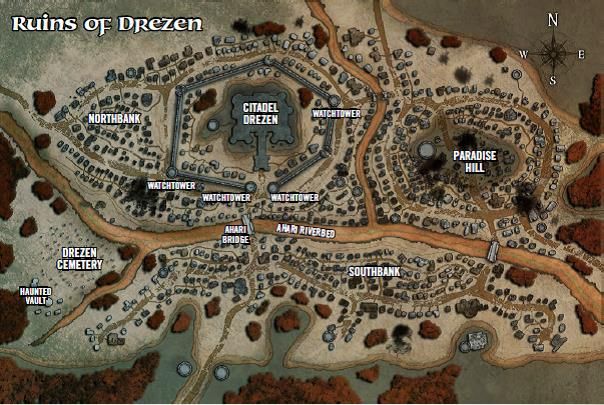 For those following the tales of Pathfinder's Golarion setting, Drezen was overwhelmed in 4638 AR due to a wave of raw chaos washing over the city had turned most of its citizens into hideous Warped Ones (or so I'm declaring) who turned on each other in a wave of cannibalistic fury. Since then the area was taken over by a terrible marilith known as Aponavicius who ruled a city of demons and tiefling / human cultists who survived by raiding farmlands on the other side of the West Sellen River.
Fast forward to the current point in the campaign and the city has been liberated by one tiefling monk called Alfy and his companions (Lex the Young Umbral Dragon, Eliska Zaitherin the Oracle and worshipper of Dou-bral and your friendly neighbourhood barbarian Jestak who had joined them when they took Castle Drezen). 
It is the current residence of a few good outsiders - a Planetar called Hollistar (summoned by the Sword of Valor and convinced to remain) who must keep her head down lest she draw the ire of too many local demons; a Vulpinal called Harri (arrived to offer his services) who does what he can to keep morale high; and two Silvanshee called Ellis and Manae (sent by Shelyn when her temple was cleared of the Ivory Labyrinth in Sword of Drezen).
While Demon's Heresy allows a little bit of rebuilding, I decided to expand on it greatly by taking the hex grid map and making a real Kingmaker game out of it.  Over the past fourteen weeks of in-game time while Alfy explored hexes, freed the Weapon in the Rift (PFS scenario) and conducted some fundraising in Absalom, the city has grown and slowly absorbed a lot of the extra wealth gain from earlier adventures.
The city began play with Ahari Bridge and Paradise Bridge but all else needed repair.  Since Queen Galfrey sent builders with the armies (five 100 person paladin armies, two 200 person mercenary armies initially) and since people weren't looking to make much of a profit for themselves, I halved the wealth requirement for a Build Point and reduced the time to repair a building to one week.  Alfy still has his original "Heirs of the Wardstone" paladin army and "Rosethorn" tiefling / mongrelfolk / dhampyr" 25 person army.
Queen Galfrey also sent a few high level druidic allies to smooth the earth of the hard-baked valley to allow the West Sellen River to flow down the Ahari Riverbed which allows transportation of enough food and drink to keep everyone safe.  These druids have since left the location.
Alfy must also defend settlements on the other side of the West Sellen River including Bedis, Fort Pormanteau, Valas' Gift, Vilareth Ford which fords the West Sellen River, Keeper's Canyon, and Singing Stones Temple.  You can find more details about these locations
over here
.
During the fourteen weeks so far passed during the campaign, kingdom events were randomly rolled on the events table in Ultimate Campaigns.  The results were then worked into the resulting storyline.